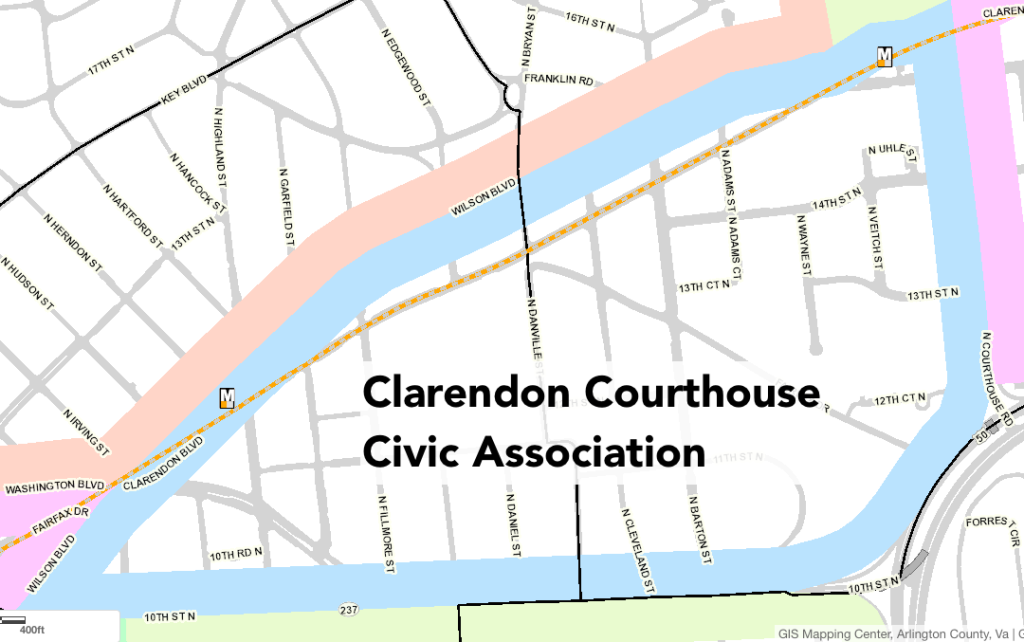 The Clarendon and Courthouse neighborhoods (formerly Courtlands) encompass a number of the earliest developments in Arlington's history. Clarendon, at the west end of the Clarendon Courthouse Civic Association, was the heart of Arlington's commercial district dating back to the early part of the 20th century. Courthouse, at the east end, has always been Arlington's civic center. These continued uses, coupled with a METRORail stop at each end of the neighborhood, place Clarendon and Courthouse among the most vital neighborhoods in the entire County.
The Clarendon Courthouse Civic Association is bounded by Wilson Boulevard on the North, Courthouse Road on the East, and Arlington Boulevard and 10th Street on the South.
The first subdivision of the area was laid out in 1899 and named Clarendon after the Earl of Clarendon (1609-1674). With the addition of the trolley line linking the area with Washington, D.C., construction of homes and shops was so rapid that before 1910, at least five "additions to Clarendon" were subdivided by various developers. The Clarendon Citizens Association was formed in 1912, and by 1920 Clarendon had become the economic center of the County. Commercial and residential development grew in the 1920s. The "Streamline Moderne" architectural style often associated with Clarendon influences many of the commercial buildings built in the 1930s and 1940s.
For a more complete neighborhood history, read the Clarendon Courthouse Neighborhood Conservation Plan.